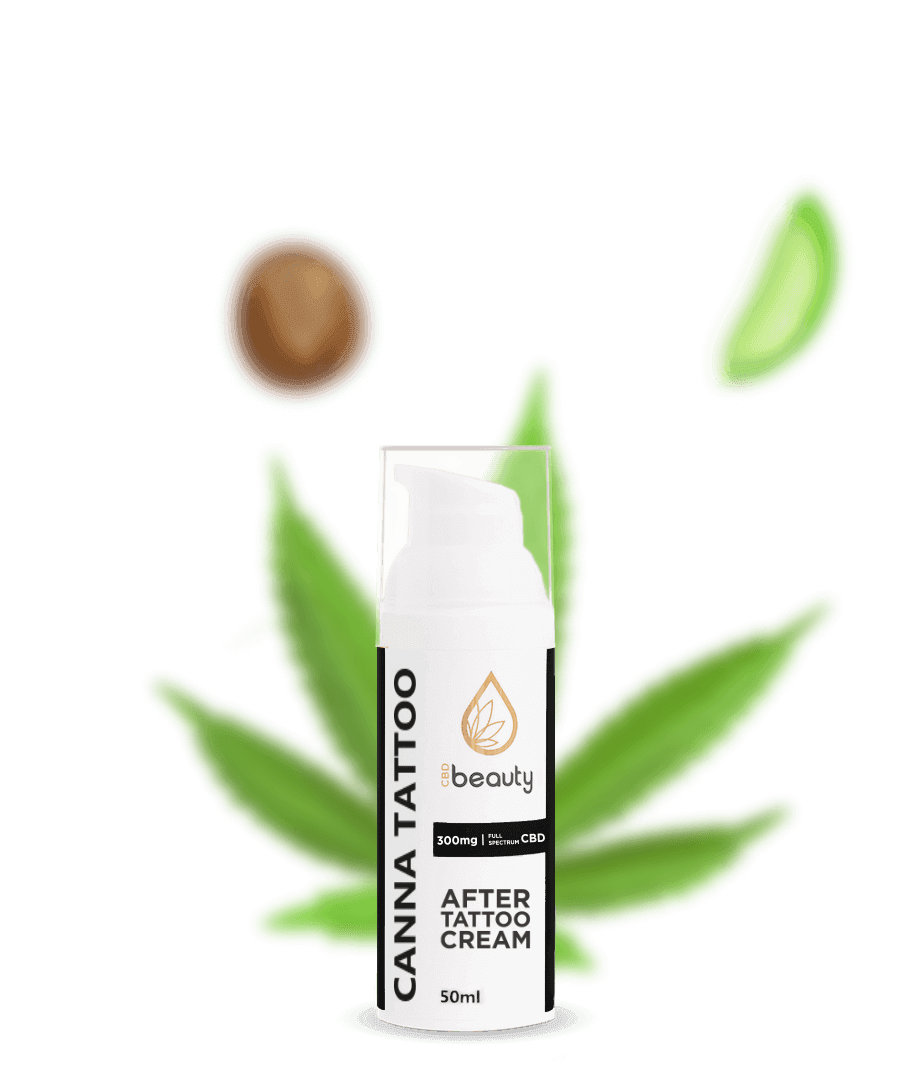 CANNA TATTOO - tattoo cream
(300mg | FULL SPECTRUM CBD)
Available
Tattoo cream with the scent of Peruvian balsam. It helps reduce the risk of inflammatory processes in damaged skin and maintains skin pigments.
helps heal skin marked by tattoos

for all skin types
daily protection and regeneration
anti-inflammatory and regenerative properties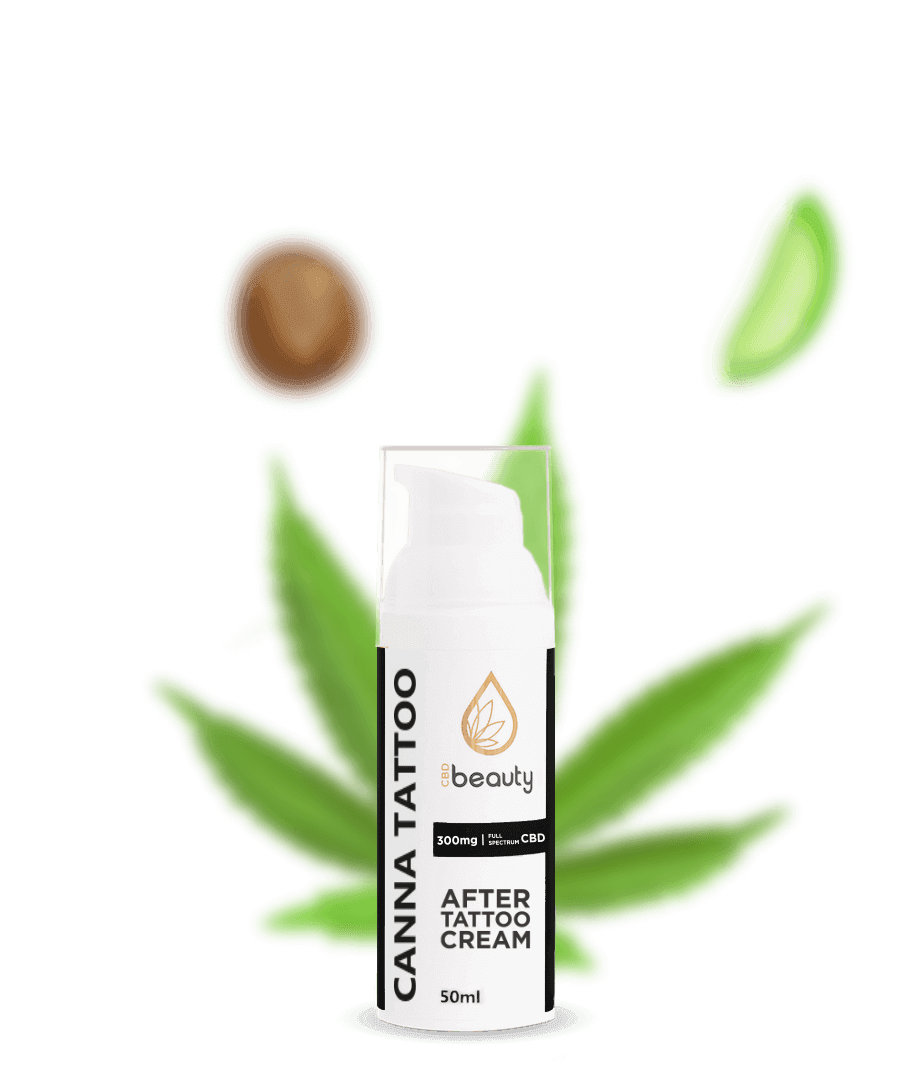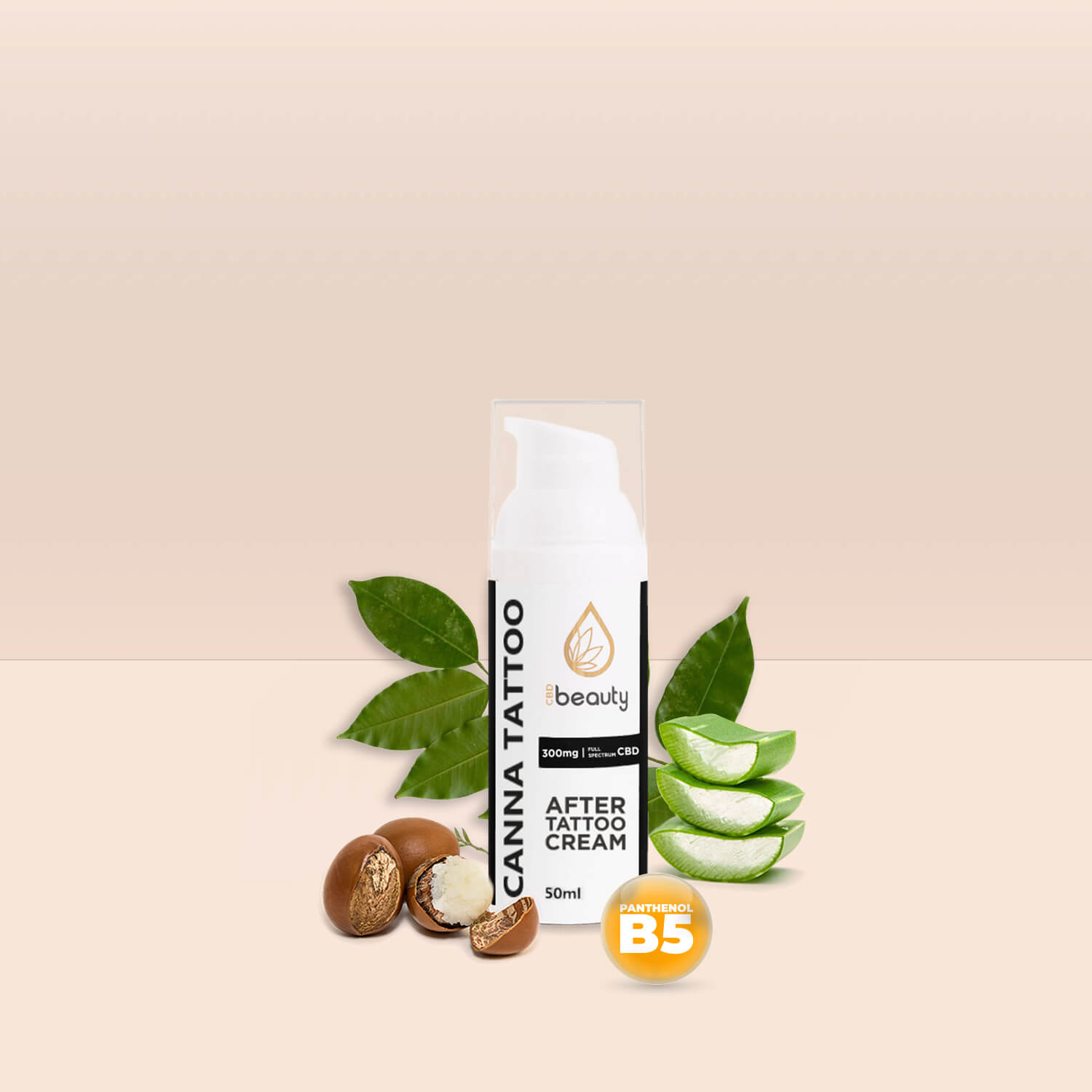 Active ingredients:
full spectrum
cannabidiol, hemp oil, shea butter, argan oil, macadamia oil, hyaluronic acid, panthenol, aloe vera, beta-gluca.
Cannabidiol (CBD) has significant antibacterial and antioxidant properties that act as a microbiological shield against tissue damage. These are further enhanced by extracts from aloe vera, panthenol and beta-glucan, which have an anti-inflammatory effect and have an intensive effect on the accelerated healing of tattooed damaged skin. Contains a trace amount of THC.
Result
The result is accelerated regeneration and protection of the tattooed parts. The unique composition ensures long-lasting hydration, elasticity and resistance of the skin's cellular structure. It restores life to skin marked by a new tattoo and also protects and maintains skin pigments.

Application
It can be applied to all skin types, including skin marked by a new tattoo. Its unique properties ensure perfect regeneration of the skin's cellular structure.

Composition
The softening and moisturising effect of cold-pressed vegetable oils is complemented by a premium quality shea butter and hyaluronic acid. Thanks to their combined effects tissue regeneration is accelerated, , the skin is nourished and its elasticity and resilience are increased This product is not a pharmaceutical.
Ingredients
Aqua, Cannabis Sativa Seed Oil, Biosaccharide Gum-1, Butyrospermum Parkii Butter, Glycerin, Polyglyceryl-3 Methylglucose Distearate, Macadamia Ternifolia Seed Oil, Argania Spinosa Kernel Oil, Cetearyl Alcohol, Panthenol, Glyceryl Stearate, Gluconolactone, Full Spectrum Cannabidiol, Sodium Benzoate, Rutin, Palmitoyl PG-Linoleamide, Essential Oil, Sodium Hyaluronate, Xanthan Gum, Beta-Glucan, Palmitoyl Linoleoyl Amide, Aloe Barbadensis Leaf Extract.
Airless system and cream dosing
The cream is filled into an airless container (without air), in which the contents are extruded by a piston on the principle of vacuum. By pressing the pump, you can comfortably squeeze out the optimal amount of cream, which you can then easily remove with your finger. The air does not get back into the packaging, ensuring stability and hygienic handling without contaminating the product.
Press the pump approximately 20 times before first use.
Store: +10°C to +25°C in a dry and dark place.
Warning: If signs of irritation appear, discontinue use!
Shelf life: 2 years from the date of manufacture indicated on the packaging.
Handmade in the EUROPE
Suitable for all skin types
normal, oily, dry or very sensitive skin.
Natural cosmetics of premium quality
our cosmetics meet the highest standards. It is certified and registered on the CPNP portal.
ISO certified hemp extracts
hemp oil enriched with cannabidiol is the basis of our products.
All products are dermatologically tested
no tests have been carried out on animals.