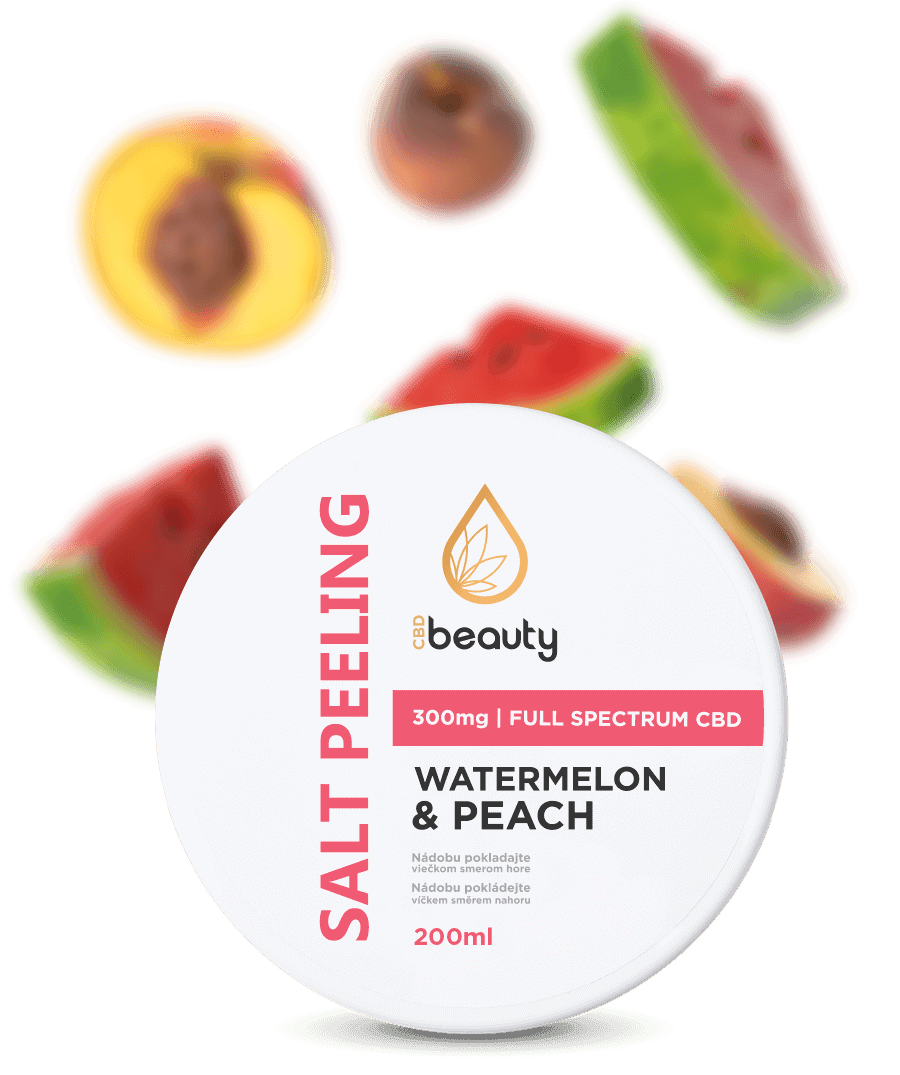 SALT PEELING - watermelon & peach
(300mg | FULL SPECTRUM CBD)
Available
Epsom salt peeling also contains Aloe Vera and hemp oil enriched with FULL SPECTRUM CBD. It rids the skin of dead cells and bacteria, cleans pores, hydrates and regenerates. It is decorated with a wonderful summer scent of melon and peach.
prevents the formation of acne and inflammation
cleans pores and removes dead cells
feeling of hydration and softness long after application
suitable for skin and body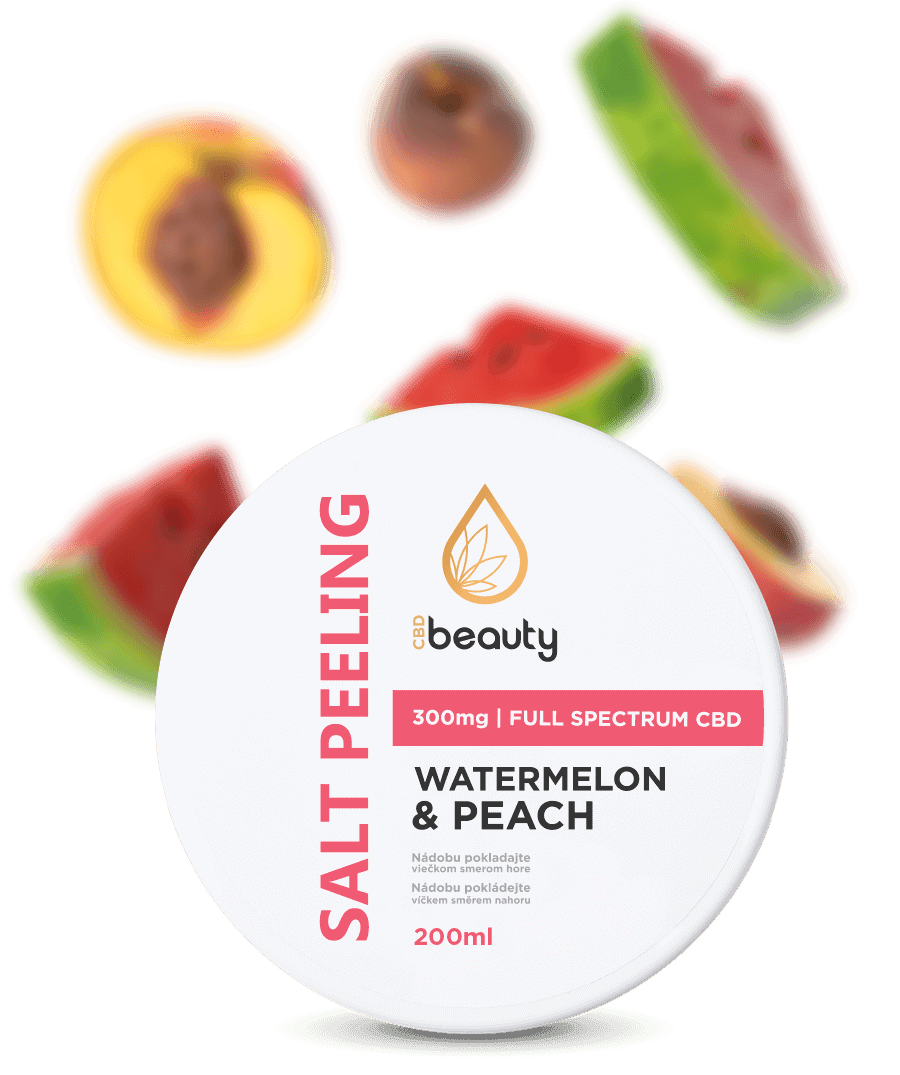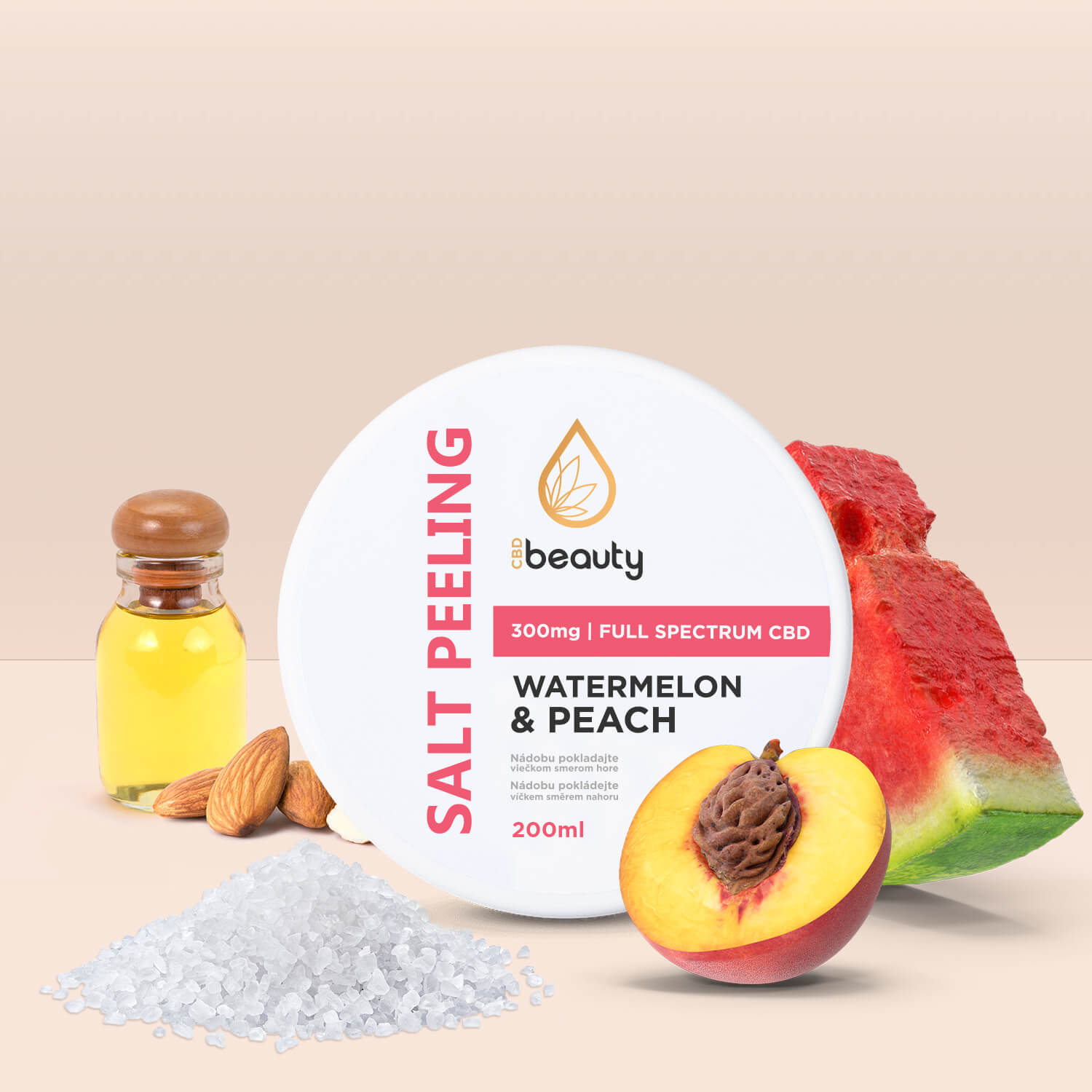 Active ingredients: FULL SPECTRUM CBD, hemp oil, epsom salt, almond oil, vitamin E, magnesium, aloe vera.
Application
We recommend gently rubbing into damp skin and then rinsing with warm water. Avoid contact with eyes and mucous membranes.
Result
Pores are cleansed and the skin is freed from harmful bacteria and dead skin cells. Thanks to the higher content of FULL SPECTRUM CBD and healing properties of the Epsom salt, the feeling of hydration and softness remains long after application, as does the state of relaxation.
Composition
Epsom salt is an important component of seawater, but it is also found in some mineral springs. The high concentration of magnesium has a healing effect on the skin, but also on the musculoskeletal and nervous system. It also helps to balance hormonal levels. Gentle application of Epsom Salt will help to calm the mind and induce a state of deep relaxation, contributing to healthy sleep. In addition, it removes toxins from the body, suppresses inflammation and, combined with the higher content of FULL SPECTRUM CBD, effectively hydrates and nourishes the skin. It contains trace amounts of THC. This product is not a pharmaceutical.
Ingredients
Sodium Chloride, Prunus Amygdalus Dulcis Oil, Cannabis Sativa Seed Oil, Tocopheryl Acetate, Magnesium Sulfate, Cannabidiol , Aloe Barbadensis Extract, Hypoallergenic Parfum, Benzyl Benzoate, Hexyl Cinnamal, Cl19140, Cl15985.
Store: +10°C to +25°C in a dry and dark place, with the lid facing upwards.
Warning: If signs of irritation appear, stop using!
Shelf life: 2 years from the date of manufacture indicated on the packaging.
Handmade in the EUROPE
Suitable for all skin types
normal, oily, dry or very sensitive skin.
Natural cosmetics of premium quality
our cosmetics meet the highest standards. It is certified and registered on the CPNP portal.
ISO certified hemp extracts
hemp oil enriched with cannabidiol is the basis of our products.
All products are dermatologically tested
no tests have been carried out on animals.