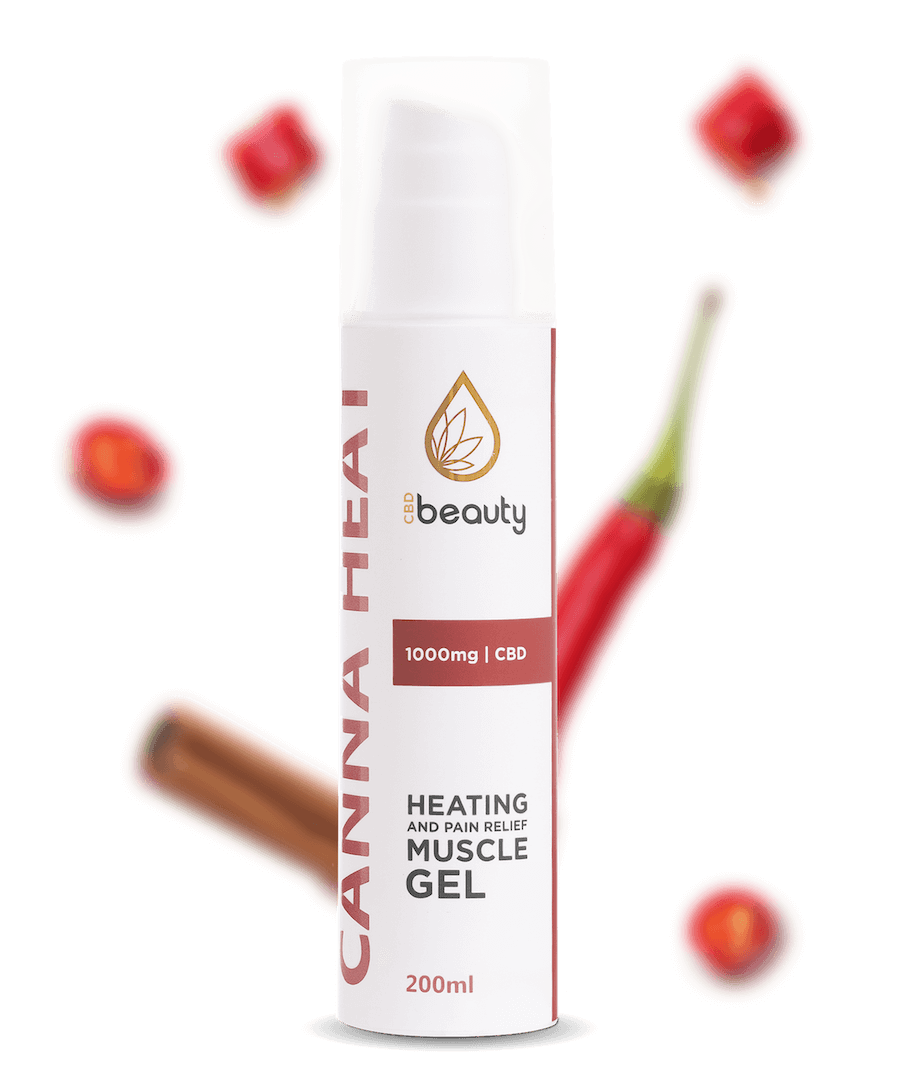 CANNA HEAT - warming massage gel
(1000mg | CBD)
Available
Warming herbal massage gel with a high content of CBD, medicinal herbs and essential oils is an ideal regenerating agent for muscles, tendons and joints.
warming effect with gradual release
analgesic and anti-inflammatory effects
faster regeneration
fast absorption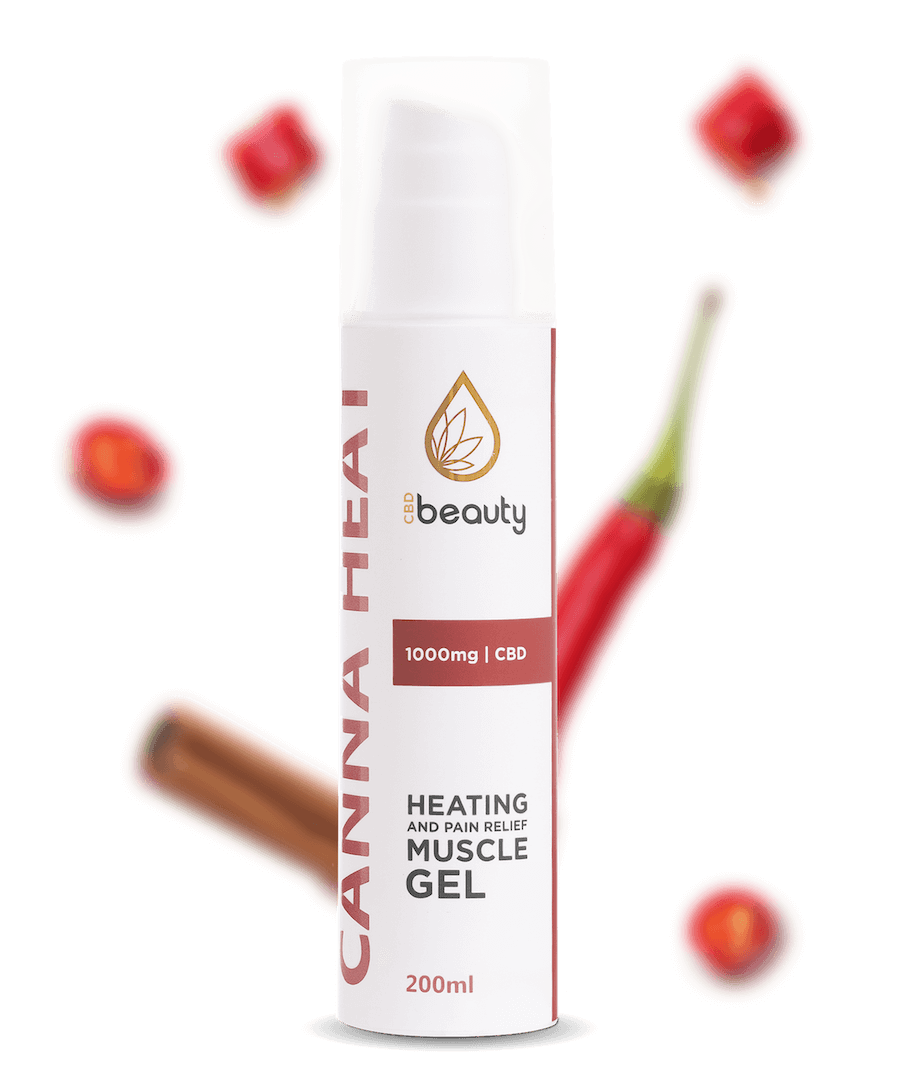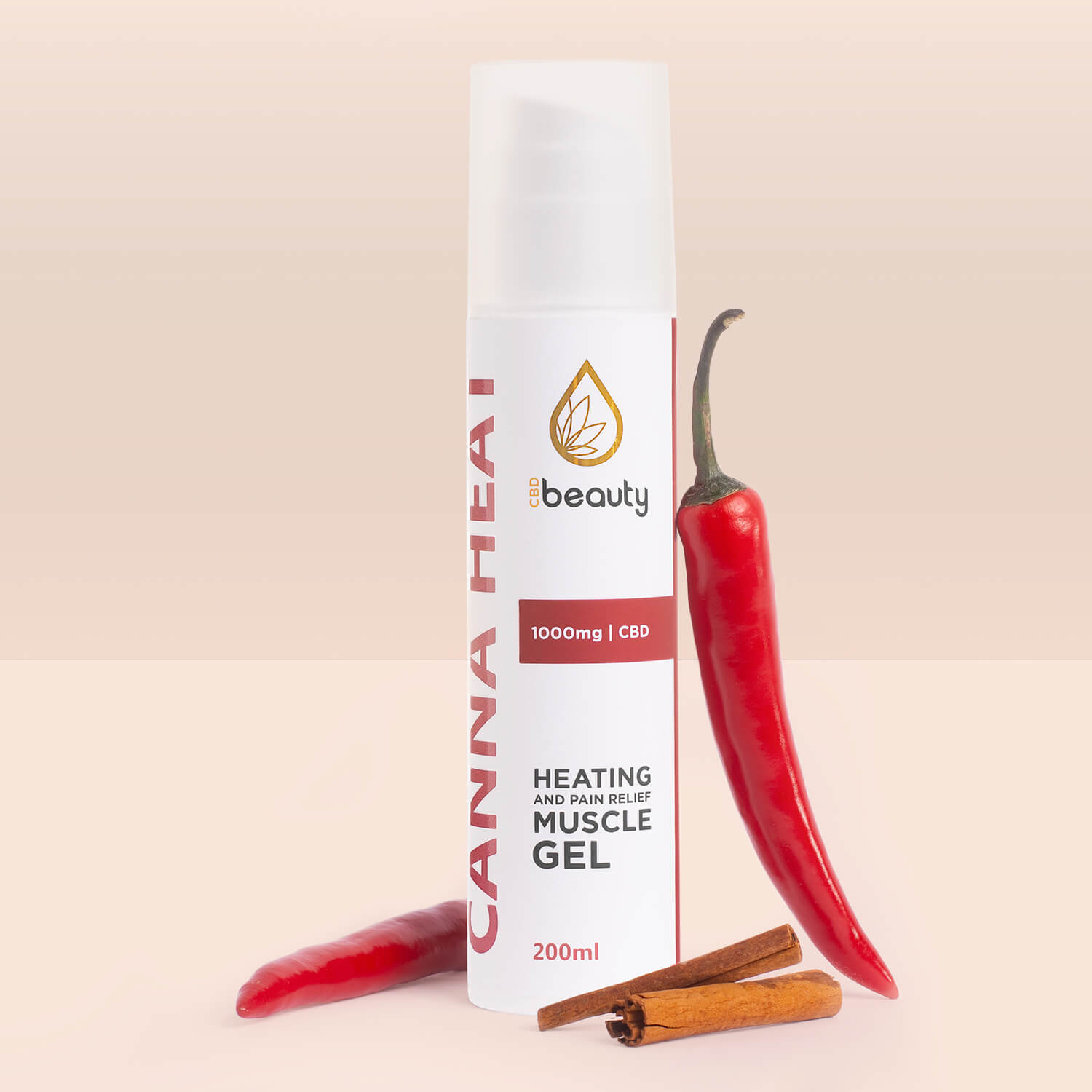 Active ingredients: cannabidiol, cannabis oil, borage, capsaicin, cinnamon chestnut, comfrey, mint, elderberry, arnica, hyssop, thyme.
It is the high concentration of cannabidiol (CBD) that is great for pain relief and helps to eliminate inflammation. Cannabidiol plays a key role in muscle recovery. This product does not contain THC.
Result
The result is  is increased blood circulation to the skin, faster regenerative properties and a feeling of relief thanks to the analgesic ingredients. Faster regeneration allows athletes  to push their limits  beyond their capabilities and helps prevent possible injuries.
Application
Massage onto the affected areas (muscles, tendons, joints) and leave on. We recommend using it during recovery and after regular sporting activity for blood circulation and warming up of the strained musculoskeletal system. There are no known side effects with long-term use. It does not leave a sticky feeling on the skin. Wash hands thoroughly after application, avoid contact with mucous membranes, eye area and open wounds.
Composition
The gel contains 11 active ingredients of herbal origin, which have analgesic and regenerative effects. Chili extract has a warming, anti-inflammatory and circulatory effect. These ingredients have been used for hundreds of years in preparations to support the musculoskeletal system. We have taken care to ensure that they all come from proven natural sources and are of the highest possible quality. This product is not a pharmaceutical.
Ingredients
Aqua, Alcohol den., Cannabis Sativa Seed Oil, Anthyllis Vulneraria Extract, Aesculus Hippocastanum Extract, Cannabidiol, Symphytum Officinale Leaf Extract, Cannabidiol, Mentha Piperita Extract, Sambucus Nigra Flower Extract, Carbomer, Capsicum Annuum Extract, Arnica Montana Flower Extract, Hyssopus Officinalis Extract, Thymus Vulgaris Oil, Mentha Piperita Oil, Cinnamomum Camphora Leaf Oil, Cinnamomum Cassia Extract, Sodium Hydroxide.
Airless system and cream dosing
The gel is filled into an airless container (without air), in which the contents are extruded by a piston on the principle of vacuum. By pressing the pump, you can comfortably squeeze out the optimal amount of gel, which you can then easily remove with your finger. The air does not get back into the packaging, ensuring stability and hygienic handling without contaminating the product.
Press the pump approximately 10 times before first use.

Store: +10°C to +25°C in a dry and dark place.
Warning: If signs of irritation appear, stop using!
Shelf life: 2 years from the date of manufacture indicated on the packaging.
Handmade in the EU
Suitable for all skin types
normal, oily, dry or very sensitive skin.
Natural cosmetics of premium quality
our cosmetics meet the highest standards. It is certified and registered on the CPNP portal.
ISO certified hemp extracts
hemp oil enriched with cannabidiol is the basis of our products.
All products are dermatologically tested
no tests have been carried out on animals.